Double wooden pallet Material: 100% bristle hair, wooden handle and metal ferrule 12mm
REFERENCIA: GSC 004203901 FABRICANTE: GSC
Double wooden pallet Material: 100% bristle hair, wooden handle and metal ferrule 18mm
REFERENCIA: GSC 004203902 FABRICANTE: GSC
Double wooden pallet Material: 100% bristle hair, wooden handle and metal ferrule 24mm
REFERENCIA: GSC 004203903 FABRICANTE: GSC
Double wooden pallet Material: 100% bristle hair, wooden handle and metal ferrule 30mm
REFERENCIA: GSC 004203904 FABRICANTE: GSC
Double wooden pallet Material: 100% bristle hair, wooden handle and metal ferrule 36mm
REFERENCIA: GSC 004203905 FABRICANTE: GSC
Double ABS pallet Material: 100% bristle hair, ABS handle and metal ferrule. 12mm
REFERENCIA: GSC 004203906 FABRICANTE: GSC
Double ABS pallet Material: 100% bristle hair, ABS handle and metal ferrule. 18mm
REFERENCIA: GSC 004203907 FABRICANTE: GSC
Double ABS pallet Material: 100% bristle hair, ABS handle and metal ferrule. 24mm
REFERENCIA: GSC 004203908 FABRICANTE: GSC
Double ABS pallet Material: 100% bristle hair, ABS handle and metal ferrule. 30mm
REFERENCIA: GSC 004203909 FABRICANTE: GSC
Double ABS pallet Material: 100% bristle hair, ABS handle and metal ferrule. 36mm
REFERENCIA: GSC 004203910 FABRICANTE: GSC
Masking tape, ideal for painting Width: 19mm Measurement: 50 meters
REFERENCIA: GSC 004102266 FABRICANTE: GSC
Masking tape, ideal for painting Width: 24mm Measurement: 50 meters
REFERENCIA: GSC 004102267 FABRICANTE: GSC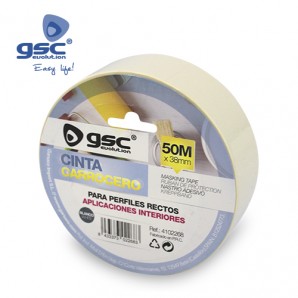 Masking tape, ideal for painting Width: 38mm Measurement: 50 meters
REFERENCIA: GSC 004102268 FABRICANTE: GSC
Masking tape, ideal for painting Width: 50mm Measurement: 50 meters
REFERENCIA: GSC 004102269 FABRICANTE: GSC
Stucco Splatter Machine Combs (Complete Roll)
REFERENCIA: AFT 12040122 FABRICANTE: MAURER
Acrylic Enamel Replacement Roller 100 mm.
REFERENCIA: AFT 12030055 FABRICANTE: MAURER
Protective treatment of the wood Matacarcomas Packaging of 0.25 liter
REFERENCIA: EDM 25045 FABRICANTE: EDM
REFERENCIA: AFT 20140325 FABRICANTE: MAURER
Maurer Paint Mixer 80x400 mm.
REFERENCIA: AFT 12050030 FABRICANTE: WOLFPACK
Brico Double White Bristled Brush No. 21
REFERENCIA: AFT 12012520 FABRICANTE: WOLFPACK
Maurer Fluorescent Red Tracing Spray 500 ml.
REFERENCIA: AFT 12060400 FABRICANTE: MAURER
Grav HVLP paint gun. p700 article with technical service speck, no changes can be made in case of problem Contact service mota 937765890
REFERENCIA: EDM 89000 FABRICANTE: EDM
Maurer Multi-purpose Plastic Cover 4x4 metres
REFERENCIA: AFT 12060050 FABRICANTE: MAURER
Maurer Deep Matte Black Spray 400 ml.
REFERENCIA: AFT 12060210 FABRICANTE: MAURER
Find in this section all the items needed for your paint jobs.